MOBILE WORKSHOP
As of now we are there for you with our "Mobile Workshop" for industry and crafts.
After arranging an appointment, the mobility of our vehicle with all necessary machine tools and the adapted accessories allows a rapid deployment to any location of your choice. Our machine tools and equipment are arranged so that we can work with them individually and effectively.
On the open floor space in our mobile workshop we offer the opportunity to meet special requirements, such as a sand blasting machine for small parts, a mobile crane, a three-column bending machine, various hydraulic lifting tools, manual folding machine for rolled sheets and grid boxes with all the necessary tools for the transfer, application or implementation of machine equipment and parts.
In addition, our vehicle has a tailboard, which allows us to repair smaller machine parts directly in the vehicle.
THE FOLLOWING TOOLS ARE STANDARD EQUIPMENT
Our conventional turning lathe is a powerful machine, which is equipped with special features. It impresses with sophisticated technology and high precision and accuracy. Our lathe is also suitable for cutting external and internal threads.
Functions:
Max. tip length or peak length 1200 mm max. ø for clamping of workpieces 170 mm           
Max. turning speed (dial indicator) 1.000 RPM       
Min. turning speed (dial indicator) 26 RPM       
Different chucks:     
3 jaw chuck ø 200 mm
3 jaw chuck ø 100 mm
4 jaw chuck ø 350 mm
4 jaw chuck ø 200 mm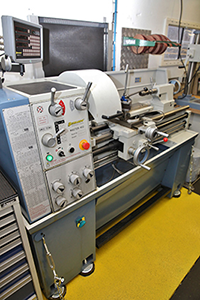 Our conventional milling machine is designed for the practical application for our customers.

The adjustable 2-axis machine meet all requirements to fabricate and rework a variety of machine parts on-site.

Dimensions of working table: Length: 1.0 m, width 24 cm
Routes: max. X 74 cm, y: 47 cm, z: 30 cm

Functions:
Maximum speed: 1,800 r / min
Minimum Speed​​: 100 r / min
Coolant system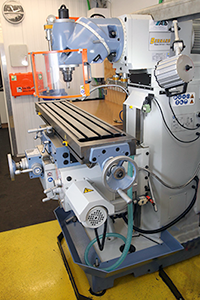 With our bench drill of a stable cast construction you are able to edit individually numerous smaller materials (e.g. metal, plastic). By various Drill chuck adapters it is possible to perform even the smallest holes (from 1 mm).

Functions:

Stepless speed controlwith hand leverandex ante regulationthrough variouspulleys
Two-stageelectricspeed control (clockwise rotation,one step anti-clockwise)
Speed indicator
Drilling depth indicator
Handreversing switchfor clockwise andcounter-clockwise rotation
Emergency stop
Individualtableheight adjustment byrack and pinion
Max. turning speed 2.400 RPM
Min. turning speed 95 RPM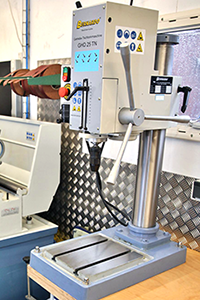 Our pillar drill is suitable for machining large workpieces due to their robust design.
Functions:
• Spindle taper MK 3
• Working height of 100-730 mm
• Clamping surface 440 x 420 mm
• Gear transmission / V-belt
• Table size 350 x 320 mm
• Projection 270 mm
• Spindle stroke 160 mm
• Speed 95-2000 RPM
• Feed 0.08 to 0.32 mm / rev
• Coolant system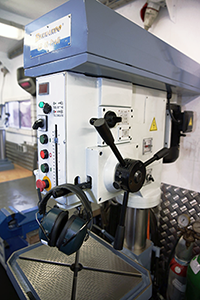 Our hydraulic workshop press has a very robust designed all-steel frame construction.
It is a perfect assistant for repair and assembly work and is suitable for bending, pushing, driving, shaping, stamping and pressing of steel and other materials, particularly of bearings.
Functions:
Max. depth 51 cm
Min. depth 6 cm
Width 48 cm (not adjustable)
Max. hydraulic stroke 95 mm
And 100 mm spindle
Max. pressure 15 t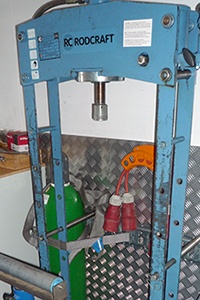 Our workbench provides a robust work surface. You can select individual electronic components for test performance (380V, 220V, 24V, 12V).

In addition, pneumatic components (cylinders, multiturn actuators, etc.) can be tested by means of pressure regulators about their own air supply.

Two robust vices, which are height adjustable and swivel-mounted, provide an opportunity to clamp and process each workpiece individually.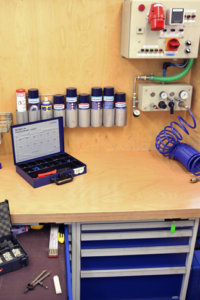 Our vehicle has a fully equipped kitchen at your disposal as well as an office with integrated printer and fax machine.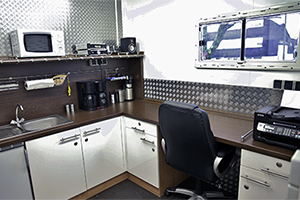 With our various mobile welding equipment (MAG, TIG), you can weld individually on site. Subsequently you can clean and degrease your component parts with our mobile small parts washer.
Through our extensive range of screws we are able to meet most of the requirements of our customers.
In three workshop cabinets each with 6 drawers there is a metric range of screws (M3-M10 and up to a length of 70 mm) cheese head and countersunk screws and various threads of M3-M12 as well as the appropriate screw nuts, lock nuts, washers and spring rings.
Various metric bolts and nuts are also available in our product range.
In the range of pneumatics, we have a wide choice of compressed air connectors (from 4-12 mm) and various inch connectors.
In addition, we always have in stock various service units, solenoid valves, manometer, Chokes and silencers.
For the introduction or implementation of machines we also offer a variety of dairy pipelines, dairy pipe connections and a variety of pipe screw joints for water, air, etc.